VISIT
Welcome to The King's Chapel
The King's Chapel (TKC), above all else is Gospel-centered. Our mission is to live out the Great Commission (Matthew 28:19-2) by pursuing four primary core values: love our Savior, serve our neighbor, teach our people, and reach our world. At TKC, anyone is welcome, regardless of where you are on your journey. This is the heart of our church and we hope you'll join us.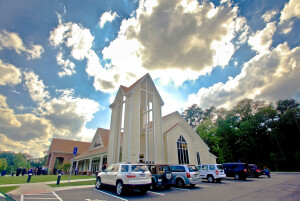 What to Expect
We are men, women, children, public servants, teachers, professionals, students, motorcycle riders, athletes, artists, young, and old, but most of all we are family.
What We Believe
It is our desire to create disciple making communities. We do this through loving our Savior, serving each other and our neighbors, teaching our people, and reaching our world.
Frequently Asked Questions
We would love to see you soon!