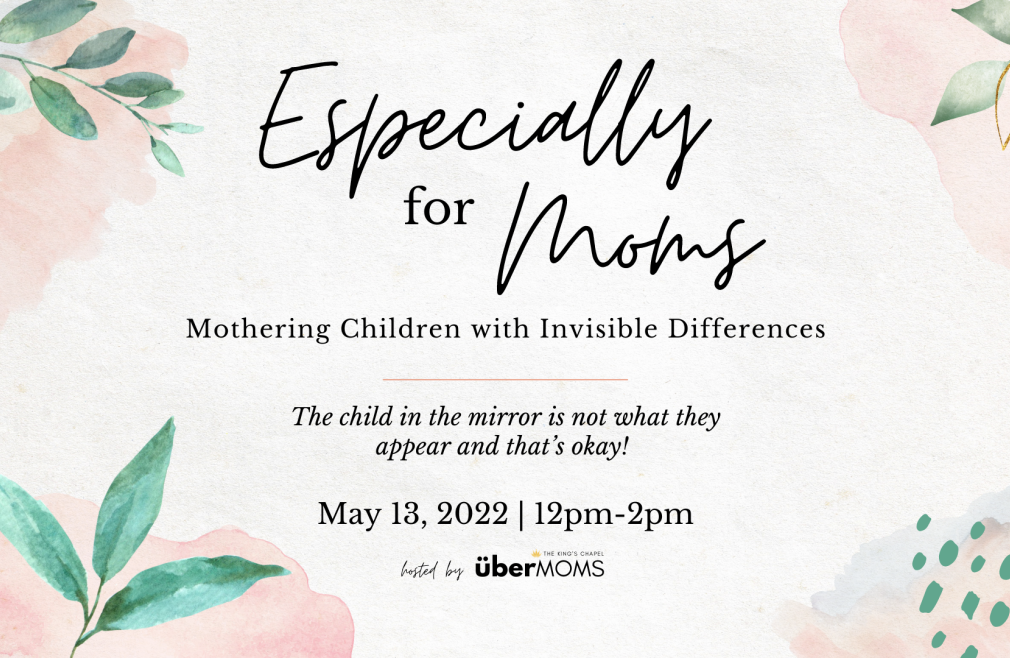 Friday, May 13, 2022
,
12:00 PM - 2:00 PM
Especially For Moms Workshop: Mothering children with invisible differences
Child in the mirror is not what they appear - and that's okay!
Are you struggling to understand your child's behavior? Ubermoms presents, Especially for Moms - Mothering children with invisible differences. Come enjoy a catered lunch on May 13 and join the authentic, honest conversation and receive hope right where you are from our expert panelists and other moms who have walked in your shoes.
Register here
and submit your anonymous questions for our expert panelist.
Topics addressed will include:
Parenting children with social, emotional, and behavioral differences
ADHD, Anxiety, OCD, Spectrum
Learning & Developmental Delay
The stigma associated with parenting an atypical child - you are not alone
This event is sponsored by überMOMS, a ministry at The King's Chapel for moms of elementary-high school moms. Childcare is limited, register early!
Be sure to submit your questions for our panelists on your registration form.
More about the event
EXPERT PANELISTS:
Dr. Robert Verdile - Robert Verdile, Ph.D. has worked since 1981 as a Licensed Clinical Psychologist in independent practice at his office in Leesburg, Virginia. He received his undergraduate degree at Rutgers College and his doctoral degree at the Catholic University of America. He completed his National Institute of Mental Health internship at Saint Elizabeths Hospital in Washington, DC, and later a postdoctoral program in Child and Adolescent Psychotherapy at the Washington School of Psychiatry. Prior to establishing his practice, Dr. Verdile worked at the Kennedy-Krieger Institute of Johns Hopkins Hospital, where his interest and training in the diagnosis of learning differences was formed, and then worked at the National Children's Rehabilitation Center in Leesburg, VA, where he gained more experience through working with children with neurological differences at this residential treatment center.
Mrs. Peggy Connor - Peggy Connor is a Professionally Certified Educational Therapist with the National Institute for Learning Development. She graduated from Grove City College with a B.S. in Biology and a B.S. in Nursing at George Mason University. She served in Washington D.C., Northern Virginia, and Maryland as a maternal and child health nurse for INOVA before staying home to raise her daughter, Emma Claire. When her daughter started school, Mrs. Connor found her second mission field in the classroom! She specialized in early literacy and math skills in kindergarten through first grade for 15 years. Along with introducing these wonderful students to Jesus, she has been helping parents understand the benefit of early diagnosis and evidence-based intervention plans to help students with learning differences. Currently, Mrs. Connor is a member of Del Ray Baptist Church and serves as the Lower School Student Services Coordinator in the Learning Assistance and Instructional Resource Center at Trinity Christian School. She loves to bake, work on needlework projects, and spend time with family.

Guest Testimonies:
Mrs. Ruth Anderson. Missionary and mother of an adult child with learning differences
Mr. Timofey Dovgalyuk. Architectural Designer and Employer of Linda Bunk
Ms. Linda Bunk. Creator of Abnormal Missionary.com, a Christian living with Bipolar and Aspergers
SCHEDULE OF EVENTS:
Doors Open & Check-in

Welcome & Prayer

Lunch

Panel Q&A

Mom's Testimonials
Raffle & Announcements
Farewell
Early registration opens April 1st and is free until May 1st. General registration begins May 1st at $10 per registrant and closes May 10th. This event is brought to you by überMOMS, a ministry at The King's Chapel for moms of elementary - high school-aged children.